Itchyfeet Recruitment
Established in 2005, Itchyfeet Recruitment have become the Channel Islands leading recruitment agency and largest provider of permanent, temporary, contract, payroll and executive recruitment services across all levels. They are a highly respected professional organisation and a fully accredited REC Member.


Key requirement defined and fulfilled
Itchyfeet operate efficiently in terms of supporting job providers and job seekers, particularly the provision of accurate and timely information relative to each potential vacancy. This primary deliverable was apparent when they met Submarine to discuss their requirement for a new, mobile responsive website in support of the business operation. Submarine focussed their solution on providing a simple and direct mechanism to manage (via the CMS) and present available positions to its clients. From a user point of view this critical information is available from the first screen above the line with simple selection controls to rapidly filter hundreds of potential results. A key word field is also included in support of more specialised positions for example Digital Marketing.
Results are listed with the closest match appearing first and the search selector remains available at the top of the screen. Key job specs are clearly emphasised in the listing (location, sector, etc) and CTAs encourage easy transit to further details and a first application. With this Submarine solution a vacancy can be viewed and applied for in 2 or 3 clicks.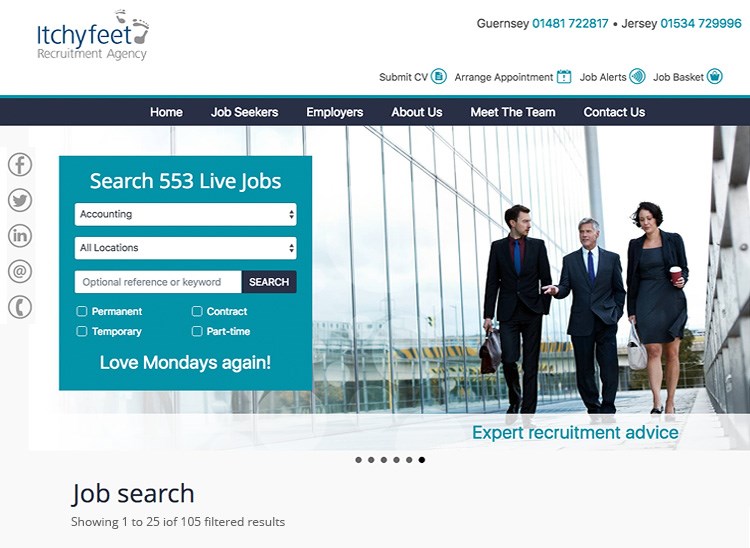 A simple and elegant solution - front and back end
The website deployed in stage one has a simple back-end foundation through the advanced Umbraco CMS although this is still capable of supporting data collection through form input and push notifications to clients via their email contact. These functions support online facilities which include CV submission, vacancy application and job alerts.

Marketing and brand support
Beyond the focus on efficiency and function in this solution, Submarine have not forsaken engaging website visitors or the Itchyfeet brand. A new colour scheme extension of the existing brand was provided to improve representation on screen and support accessibility. A hero carousel gently draws in viewers with aspirational imagery which is maintained through to the mobile phone deployment.

Submarine's logical and direct approach to data and the online user experience have provided Itchyfeet with a highly effective and function website experience, improving on their previously available processes. 

Have you landed here from a web search?
Submarine are a technical and creative solutions provider based on the island of Guernsey near the French coast. Our field of operation is generally the Channel Islands although we do service clients with wider operations within Europe.