Alexa Skill development
Amazon Alexa is a virtual assistant developed by internet retailer Amazon, first used in the Amazon Echo and the Amazon Echo Dot smart speakers. It is capable of voice interaction, music playback, making to-do lists, setting alarms, streaming podcasts, playing audiobooks, and providing weather, traffic, sports along with other real-time information. The Echo hardware allows simple installation in the home and office using wireless networking for communication.  
Alexa capability can be extended and the experience personalised through the use of 'Skills' which can be added to the device through an account and the Alexa app. With the increasing domestic footprint of Alexa, this opens up the potential for a new comms and service channel which Submarine are now exploring.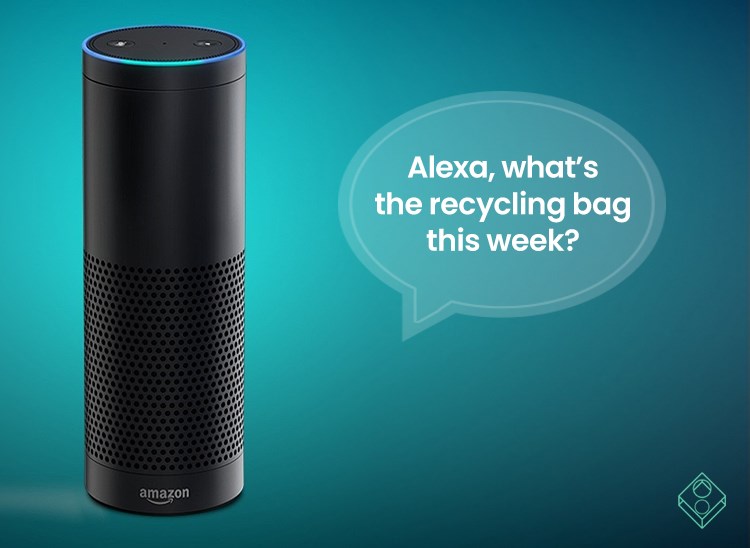 States of Guernsey - recycling
Recycling is a requirement of many local authorities including the States of Guernsey who use a coloured bag system and calendar to encourage citizens to filter domestic waste ready for collection. Due to the number of parishes, collection rotation and recycling types, remembering which bag is required and when the collection will take place can be problematic.

Submarine have already deployed the Guernsey recycling data stream to a number of websites and this new development provides the benefits of convenience and wider access through the Alexa device... once the 'skill' has been downloaded and installed, users can simply speak a command to Alexa and the information will be delivered instantly.


Features
The development is still in progress and fluid although the following response items have been included:
Request a recycling voucher
Discover the current weeks recycling / bag colour
Find out what goes into each recycling bag colour
Find out where to recycle a specific item
Get next week's recycling information
Ask when glass/food waste/black bin bag collection will take place
Find out more about the recycling process
Find out why your recycling was skipped and what to do next
Email the States of Guernsey that your recycling was not collected

Developing an Alexa Skill
If you have an idea for an Alexa skill which could improve delivery to your market, please contact Submarine for a discussion. We are happy to work under an NDA and can stage developments to include an early proof of concept. This can be useful for presentation to internal management, stakeholders and in pitches for funding. 


Links
All things Alexa on the Amazon website


Have you landed here from a web search?
Submarine are a technical and creative solutions provider based on the island of Guernsey near the French coast. Our field of operation is generally the Channel Islands although we do service clients with wider operations within Europe.